← All news
The next frontiers in cancer vaccines: when academia's and industry's bright minds get together
During the 3rd edition of the Biotech Wednesday Event, co-organized by HollandBIO and Oncode Institute, academia and industry came together to discuss the past, present and future of therapeutic cancer vaccines. In a packed Pakhuis de Zwijger, the brightest scientists and industry leaders in the cancer vaccine development shared their research and new developments including an outlook on the future.
HollandBIO's Wieteke Wouters and Oncode's Valorization Director Chris De Jonghe welcomed everybody and stressed the importance of collaboration. We have the power to reach over 270 biotech companies and more than 900 excellent cancer researchers. They established the goal of this event: to connect both the academic and industrial worlds.
The past, present and future of therapeutic cancer vaccines
Oncode Investigator Sjoerd van der Burg, (Leiden University Medical Center) kicked off with setting the scene about the past, present and future of cancer vaccines. Cancer vaccines know an exciting as well as frustratingly long history since the 1900's, with lots of setbacks due to a lack of strong efficacy during trials. In order to improve therapeutic outcomes, more focus on CD4+ T-cells, T-cell infiltration and the selection of the appropriate neoantigens is needed.
Next up was Gerben Moolhuizen (CEO of ISA Pharmaceuticals). Gerben discussed the challenging pivoting decisions a biotech company has to make in (pre)clinical development and the development of ISA as a company itself. One of the big challenges for a biotech company is; how should you divide your limited resources in the complex landscape of oncology drug development? He zoomed in on the Target Product Profile, which answers questions like the type of patients to include in your trials, how your product will compete with current Standard of Care and the manufacturing scale for approval.
Katka Franke, (Associate Director at CureVac Netherlands) worked at pre-clinical biotech startup Frame Therapeutics, before it was acquired in 2022 by CureVac. Frame discovered unique and shared neoantigens of different tumors that are the result of frameshift mutations that can be used to develop therapeutic cancer vaccines. This unique approach attracted CureVac. Katka shared the insights of being part of an acquisition by another company and the latest data on neoantigens research. She concluded that the combination of WGS with short- and long-RNA sequencing provides a complete tumor neoantigen landscape.
After the break, Oncode Investigator Carl Figdor (Radboud University Medical Center) discussed the limitations of cellular immunotherapies and posed the question whether we can design synthetic 'off-the-shelf' solutions for immunotherapy. Food for thought from Carl's side: Is it possible to skip dendritic cells and immediately activate T-cells?
Erik Manting (CEO of Mendus AB) became CEO of DCPrime in 2018 which was merged with Immunicum AB in 2021 and is now renamed to Mendus AB. Quite a journey for Erik and his team. He addressed the key challenge in today's cancer therapy landscape. Tumor recurrence is responsible for the vast majority of cancer-related deaths. To prevent or delay tumor recurrence will therefore have a large impact on the treatment of cancer. According to Erik, cancer vaccination has the potential to provide for durable responses combined with a benign safety profile.
Cross border collaboration
Helen Lavender (Translational Scientist at Cancer Research UK) was the last speaker to join the stage. Oncode Institute recently announced a strategic alliance with Cancer Research UK's new innovation organisation, Cancer Research Horizons. The alliance aims to foster innovation and collaboration between world-leading cancer researchers. Helen shared key preclinical data on CDD CHADOX1/MVA vaccination results in tumor growth inhibition and increased survival by combination therapy. This is a great example of an academic/industry collaboration crossboarders: the Ludwig Maximillian University and Vaccitech worked together to develop MAGE/NY-ESO1.
The session ended with a lively and intense panel discussions. Where does the sweet spot of treatment for cancer vaccines lies? Is it prophylactic or recurrence targeting? Among diverse modality of vaccine platforms, would there be a winner of all? There was a lot of interaction with the audience and it was interesting to see how the brightest minds had their own thoughts on the ongoing research. Because of the panel discussion, our speakers received more questions than they could answer during the networking drink.
Above all, one thing stood out: we need to work collaboratively and exchange knowledge to bring the most innovative therapies to the market for the benefits of cancer patients. We hope this Biotech Wednesday Event was the start of many new collaborations and we can't wait to meet you for the next edition.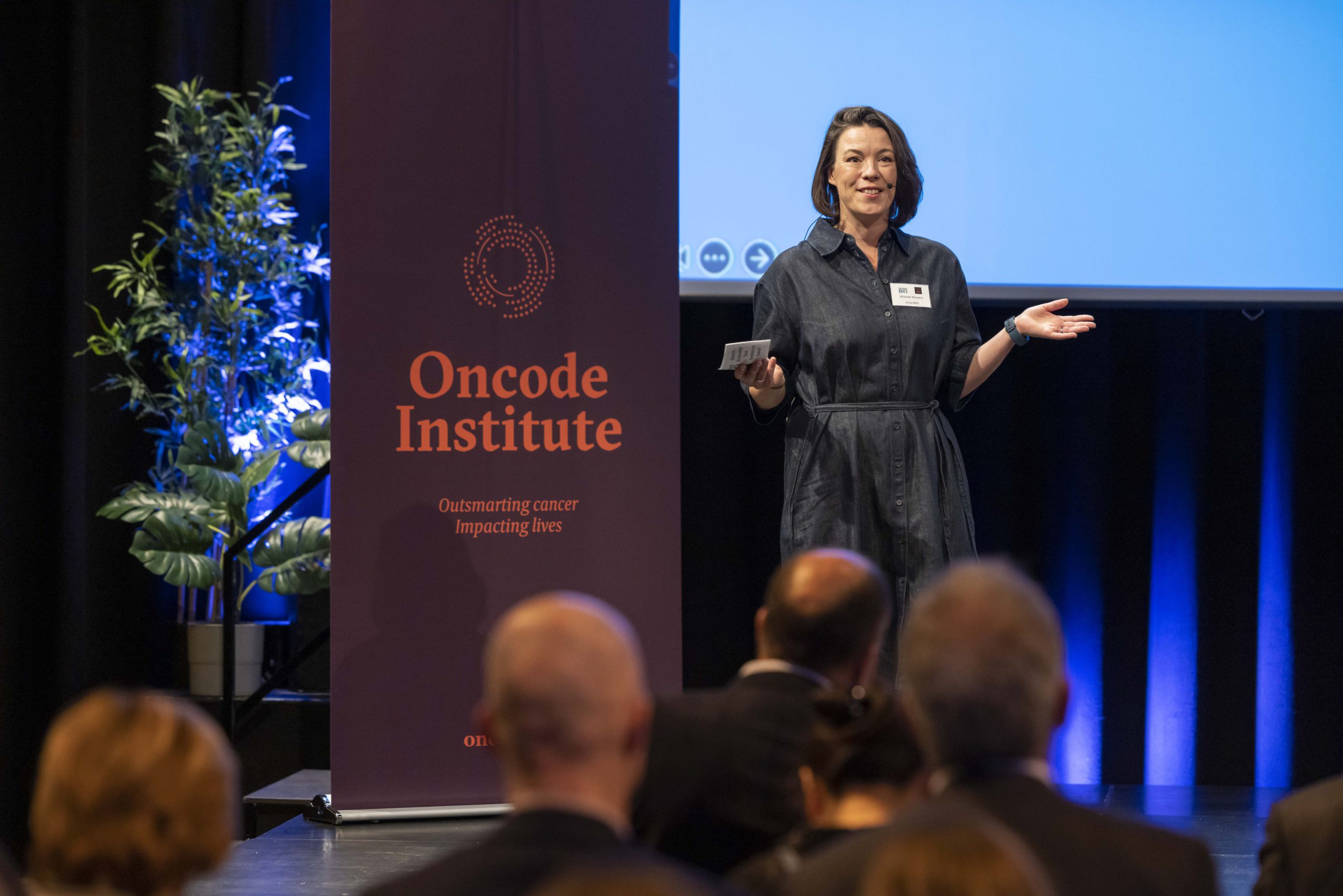 ©2022 Photo's: Nils van Houts.
https://www.hollandbio.nl/wp-content/uploads/2018/01/logo3.png
0
0
HollandBIO
https://www.hollandbio.nl/wp-content/uploads/2018/01/logo3.png
HollandBIO
2022-10-04 17:48:48
2022-10-04 17:49:34
The next frontiers in cancer vaccines: when academia's and industry's bright minds get together