← All news
Revolutionary Curative Therapies Took Center Stage at Biotech Wednesday: going for the cure
HollandBIO goes for the cure! Last week, we met in Utrecht for a Biotech Wednesday focused on curative therapies. Different speakers presented their work on cell and gene therapies, as well as RNA therapies developed and produced for individual patients. Thanks to these revolutionary new treatment options we stand at the doorstep of a major breakthrough in curing patients. However, these frontrunners also test the limits of the system, which means the road from bench to bedside can be long and bumpy.
During the event, three speakers shared how they are working to get these transformational therapies to patients. First up was Marlen Lauffer from the Dutch Center for RNA Therapeutics (DCRT). At DCRT, scientists develop tailor-made RNA therapies for patients with ultra-rare genetic disorders, for whom no other treatment options exist. Marlen shared how the necessary technology was developed, and what goes into producing therapies for individual patients. DCRT plays an important role in the international community of researchers working on these therapies, thereby highlighting the strength of the Dutch biotech ecosystem.
Second, Melvin Evers of uniQure shared how his company succeeded in developing the first registered gene therapy in Europe and the USA, which unfortunately was not a commercial success. However, this did not discourage uniQure, as the company continues to work on developing innovative gene therapies. Currently, uniQure has a gene therapy registered for adults with hemophilia B, with many others in the pipeline. And they work hard to upscale manufacturing, to be able to produce gene therapies faster and cheaper. This will enable developers of such therapies to make the transition from high-cost medicines for very few patients, to lower=cost therapies for patients with more prevalent diseases.
Lasty, Denis Peeters of Sanofi illustrated the perspective of a multinational company. At Cell Therapy Amsterdam, formerly Kiadis, Sanofi develops a natural killer (NK) cell therapy to cure patients with a wide variety of tumors. While the global scale of Sanofi helps to leverage the large amount of expertise present within the company, the Netherlands remains a good base of operations for the development of these therapies, due to the excellent life science infrastructure and universities. However, to make sure these therapies reach patients, we need a framework to enable science and biotech companies to flourish, because nobody can benefit if science does not reach patients.
With this line-up, our Biotech Wednesday event showcased the many different scales at which curative therapies are developed and produced, and highlighted the important role all parties play in this field. The presentations gave enough food for thought and discussion during the following networking drinks. HollandBIO looks back on a great afternoon. We thank the many attendees and of course the speakers for their lively contributions.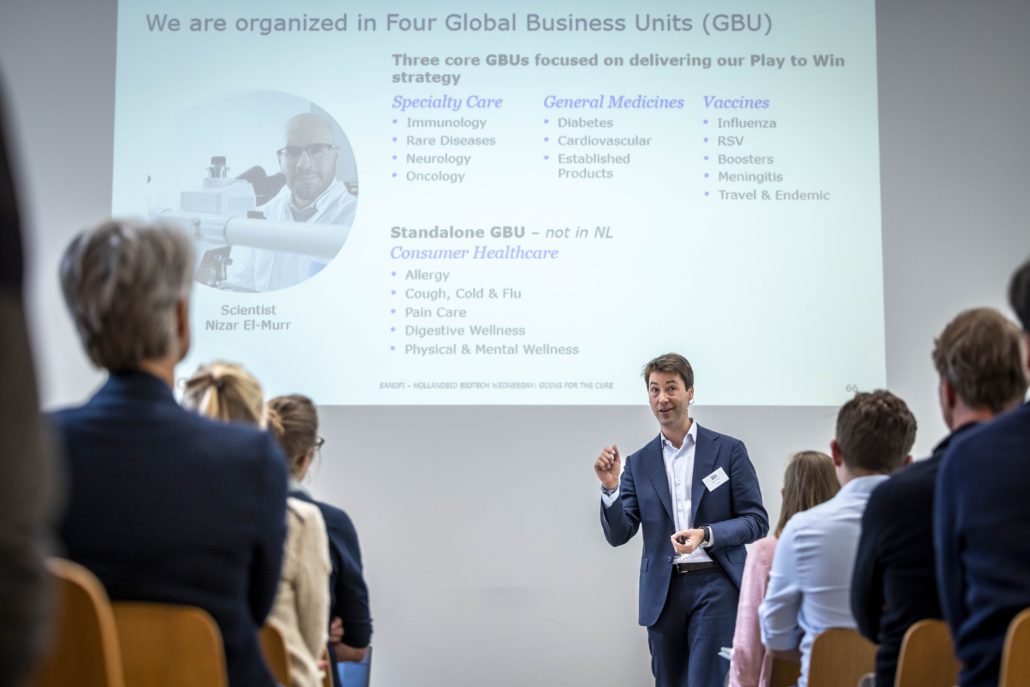 https://www.hollandbio.nl/wp-content/uploads/2018/01/logo3.png
0
0
Dina Diek
https://www.hollandbio.nl/wp-content/uploads/2018/01/logo3.png
Dina Diek
2023-05-16 15:07:18
2023-05-17 15:41:03
Revolutionary Curative Therapies Took Center Stage at Biotech Wednesday: going for the cure