← All events
Met Korting
22/09/22 -
23/09/22
On 22-23 September 2022 the TOPX Summit takes place in Oss, the Netherlands. During these 2 days you will get to meet and learn from some of the most inspiring and successful female leaders in the Life Sciences Sector. The programme, organised by and for ambitious women in Life Sciences, will cover deep dive workshops, interactive discussions, personal stories and lessons learned, one-on-one speed dates and many networking moments. We specifically also welcome men for the 1st general day of the summit to join the discussion! So, join us for a unique programme that will support and empowerment you in your efforts to rise to the top.
Online registration for TOPX Summit is open, tickets and add-ons are available for registration.
The 2022 edition of TOPX Summit will take place as an in-person meeting in Oss, on 22 September in Theater De Lievekamp and on 23 September at the offices of Pivot Park.
The first day will focus on the theme "Towards a more Gender-diverse Top in Life Sciences & Health – From Ambition to Action". This programme is specially aimed at current and future leaders in the Dutch & Belgium Life Sciences & Health sector who support diversity & inclusivity.
The second day is a personal development & empowerment programme, designed for ambitious women who want to invest in their own career development and network, and enhance their personal insights and soft skills to achieve their career ambitions.
€50 discount for HollandBIO members
HollandBIO members get a €50 discount. Ask HollandBIO's Robbert for the discount code.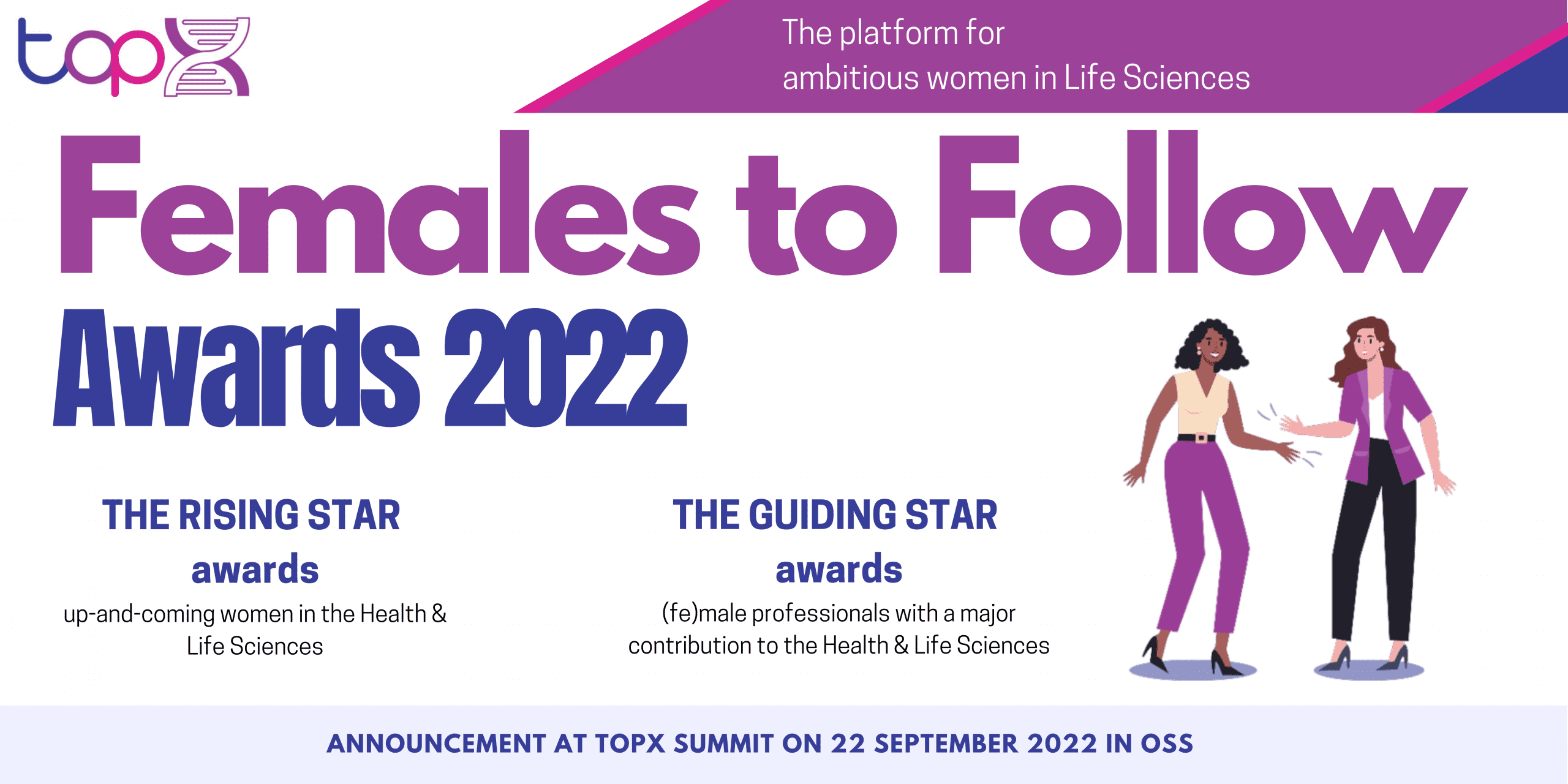 TOPX Females to Follow Awards
Calling outstanding women in Life Sciences & Health to apply for the TOPX Females to Follow Awards!
TOPX, the network for ambitious women in Life Sciences & Health, is thrilled to announce the TOPX Females to Follow awards! The aim of this award is to empower and honour outstanding females in the Health & Life Sciences sector and to celebrate their achievements. And by doing so to inspire the next generation of women and follow in their footsteps.
During the TOPX Summit on 22 September in Oss, we will announce the winners of the TOPX Females to Follow Rising Star Awards.
The Rising Star awards are divided into four different categories:
Science – for women in science and preferably with publications of great importance.
Industry – for women in the industry sector who have shown impressive leadership capabilities.
Entrepreneurship – for female founders with great entrepreneurial skills.
Society – for women who commit themselves to the health of society.
The application period for the Rising Star awards is open until May 15.
Are you or do you know a Rising Star in the Health & Life Sciences, an up-and-coming female professional in the Health & Life Sciences who is already making a significant contribution in the field of Science, Industry, Entrepreneurship or Society?! Do you know someone whom you consider a female to follow, a high-flyer to watch? Nominate them or yourself!
For more information check the TOPX Females to Follow award page –> https://www.hyphenprojects.nl/topx/females-to-follow
For more information about TOPX Network and the TOPX Summit:
https://www.hyphenprojects.nl/topx
For any questions about the TOPX Females to Follow award, you can reach TOPX at topx@hyphenprojects.nl
https://www.hollandbio.nl/wp-content/uploads/2018/01/logo3.png
0
0
HollandBIO
https://www.hollandbio.nl/wp-content/uploads/2018/01/logo3.png
HollandBIO
2022-04-01 10:13:42
2022-04-04 09:49:37
TOPX Summit 2022