← All events
Van Derden
06/07/23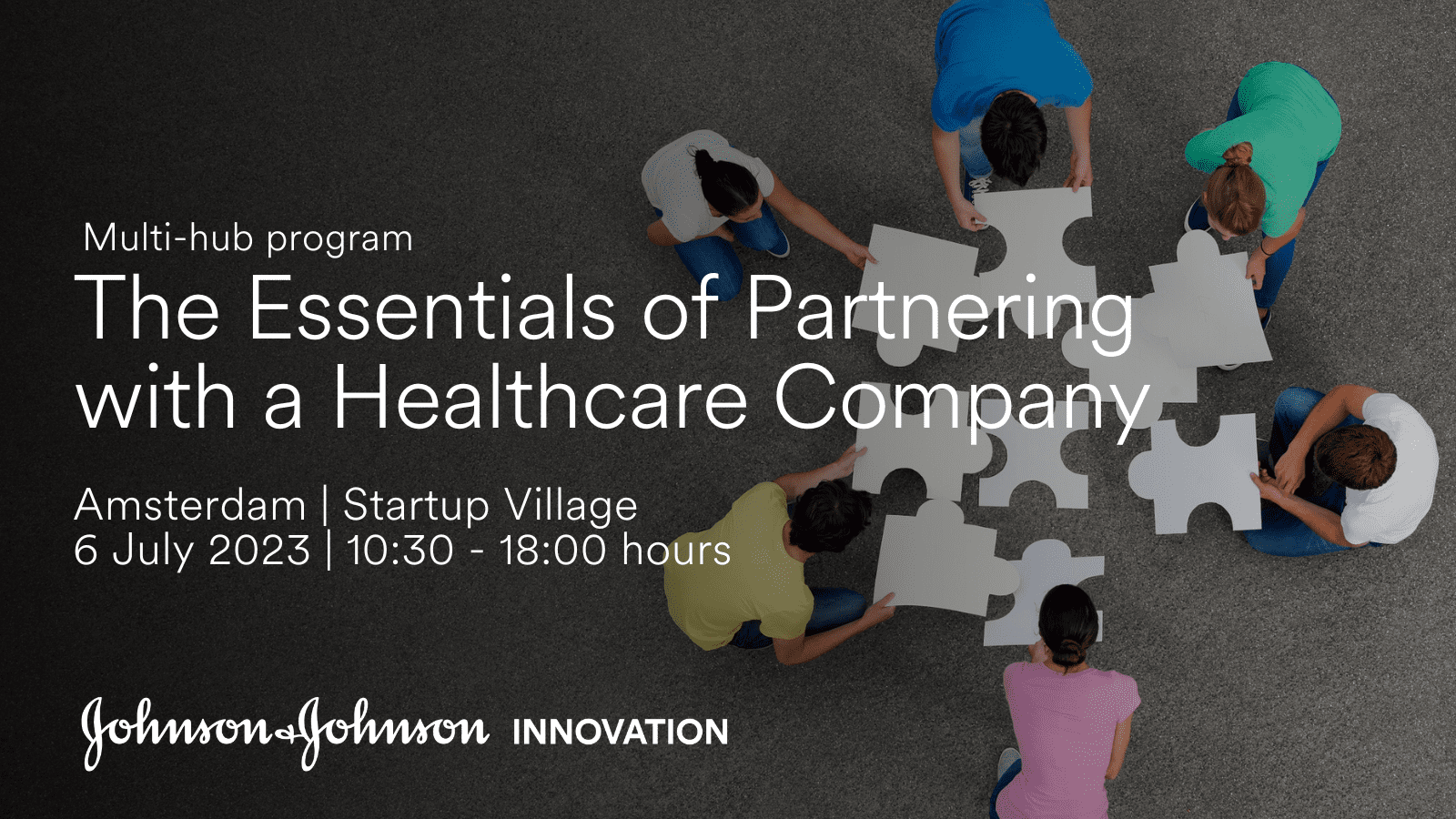 What are the ins and outs of building a successful partnership or collaboration with a healthcare company? Get insights from the perspective of Johnson & Johnson, one of the largest healthcare companies in the world, with a track-record of over 650 R&D partnerships in the last 10 years alone.
Groundbreaking science, adequate funding, IP protection and a stellar team are all key ingredients in starting up a healthcare company. However, collaboration with a large corporate partner may also be critical to successfully bring your innovation to patients. Such a partnership or collaboration may bring you access to expertise, resources and networks which are otherwise hard to tap into.
In this workshop, you'll hear from the deal-making team and innovation scouts at Johnson & Johnson Innovation, and from companies partnering with them. They share insights on how they evaluate opportunities, and discuss the steps involved in striking a deal and building a partnership or collaboration. We'll explore how startups might set themselves up for success in early business development and become partner-ready faster.
Topics will include:
How can you get insights into what a specific corporate is looking for, and how do you select strategically aligned corporates to reach out to?
What do corporates look for in an opportunity and how might you tailor your non-confidential information accordingly?
What kind of outreach is appropriate at what stage of development of your product (e.g. data set)? How do you build and maintain the relationship?
What can you expect in terms of process steps moving from first meeting, diligence, term sheet and contract negotiations?
How do you maintain the relationship once the deal has been signed?
We'll also hear from several guest speakers who are partnering with Johnson & Johnson. They will share their experiences and provide you with insights that might help you set up for success.
This workshop is geared towards founders, emerging C-level executives and business developers of biotech and life sciences startups developing assets or asset enabling technologies. The program may also be of interest to TTOs, incubators, accelerators and startup coaches supporting these startups. Our local program in Amsterdam will be all about collaboration. During a morning session different stakeholders are invited for a discussion on the power of ecosystems. In the afternoon we will zoom in on the opportunities of partnering with a healthcare company. You are invited to join either or both sessions. There will be ample opportunity for networking.
Agenda (CEST)
10:00 | Registration opens
10:30 | The power of ecosystem collaboration in biotech innovation
12:00 | Networking lunch
13:00 | The Johnson & Johnson Innovation Collaboration model
14:00 | The Essentials of Partnering with a Healthcare Company
17:00 | Informal Q&A
18:00 | Close
In the registration form, after selecting the 'Amsterdam' ticket, you can indicate whether you want to join the morning session, the afternoon session or both.
Venue
Start-up Village
Science Park 608
1098 XH Amsterdam
For more information and registration, please visit the event webpage.
https://www.hollandbio.nl/wp-content/uploads/2018/01/logo3.png
0
0
Dina Diek
https://www.hollandbio.nl/wp-content/uploads/2018/01/logo3.png
Dina Diek
2023-06-06 12:40:18
2023-06-06 12:41:59
The Essentials of Partnering with a Healthcare Company