← All events
Van Derden
15/11/18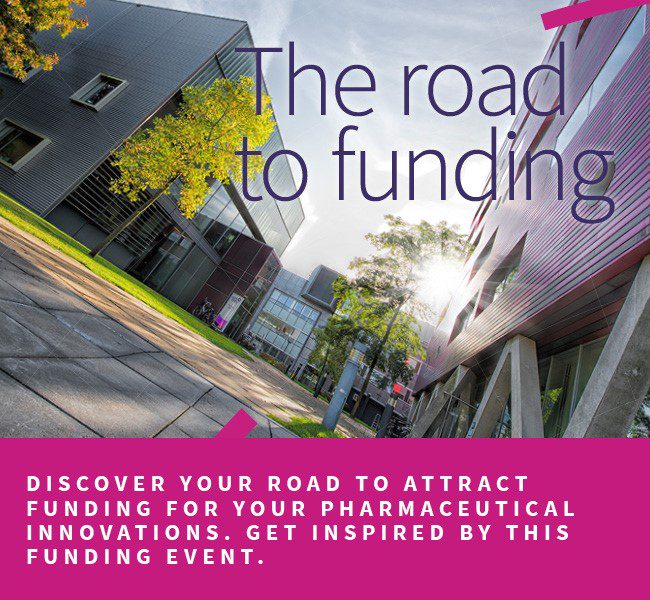 Pivot Park believes in connecting the right people to the right knowledge. Sharing experiences in order to accelerate innovation so that you can move on to the next step. Four experts and two successful companies will share their thoughts, experiences and will answer all your questions with regard to funding. Use this opportunity.
AUDIENCE: Biopharmaceutical start-ups, scale-ups and investors
WHEN: November 15th 2018, 14.00h-17.30h, doors open at 13.30h
WHERE: Pivot Park, Panorama Hall, Chesbrough Building, 3rd  floor
CONTACT: More information? Please contact Rick Meurders
REGISTRATION: You can sign up for this event via contacting Rick Meurders
Program
                    13.30     Doors open
                    14.00     Welcome and introduction by Brigitte Drees
                    14.10     Sharing Success Stories
                    15.00     Pause
                    15.30     Expert Panel
                    16.15     Wrap up
                    16.30     Drinks
Expert Panel
Felice Verduyn- van Weegen
Felice joined LSP in 2015 as an associate. Felice provides in-depth analytical support to the LSP investment team at all stages of the investment processes. She is also a Board observer for several of LSP's portfolio companies, including OxThera and Pharvaris. Prior to joining LSP, Felice was a consultant at McKinsey & Company where she worked on projects in the Netherlands and internationally with a prime focus on healthcare and technology. Before McKinsey, she was a neuroscientist and statistical geneticist, working with the prestigious complex traits genetics group at the Broad Institute and Harvard Medical School in Cambridge, USA.
Edward van Wezel
Edward currently serves on the supervisory boards of Cristal Therapeutics, Synaffix, Staten Biotechnology, Escalier BioSciences, Azafaros and Scenic Biotech. He served on the supervisory boards of BioCeros (sold in 2011), Noviogendix (acquired by MDxHealth), Progentix Orthobiology (partnered with Nuvasive) and was founding investor and supervisory board member of Acerta Pharma (acquired by Astra Zeneca). Edward is also on the board of Mibiton.Edward started his career as process engineer for Chiron Inc.. He subsequently worked in product development and corporate licensing at Johnson & Johnson. 

Jalal Es-Sbai
Jalal is a co-founder of Catalyze. He has raised >200 million Euro in grants and loans for different types of organizations. Jalal specializes in business development and financing strategies for innovative companies. He holds a Bachelor in Chemical Technology from the Saxion Hogeschool in Enschede, the Netherlands. After completing his theses at the Energy research Centrum Netherlands (ECN) in Petten and subsequently at Teijin Aramid BV in Arnhem, he successfully completed the 2-year Master program in Management and Entrepreneurship in the Health and Life Sciences. In 2007, he co-founded Catalyze. Catalyze is a market leader in obtaining funding for biomedical and healthcare innovations. Catalyze is an international company with offices in Amsterdam, Utrecht, Oss (Netherlands), Copenhagen (Danmark), Basel (Switserland) and employs 60 employees.
Ron Byron
Ron brings with him over 20 years of business management and strategic planning experience from various organizations throughout the world. He has extensive experience in the Medical Technology and Bio-Pharmaceuticals industries in the areas of Sales & Marketing and operational management having covered management roles of affiliates and distributor organizations throughout EMEA, APAC /ANZ, and the US. Ron has an MBA from Glasgow University Business School and an MSc in Strategy & Organization (Open University). He has a PhD from the Faculty of Management Sciences and Technology of the Open University, The Netherlands. Ron is specialized in the identification and selection  of promising and innovative start-ups in the bio-medical and medical technology industry.
Speakers
Allard Kaptein
Allard is co-founder and managing director of Covalution Holding, a company providing executive support and advisorship to biopharma companies. He is one of the founders of Acerta Pharma and in this capacity was involved in the series A financing of the company. In his current role as Head of Biology and Translational for Acerta NL he is responsible for new targets / programs for the company. Allard joined the pharmaceutical industry in 1994 and worked in different project and line management positions at Glaxo (Wellcome), Organon, Schering Plough and MSD, on cardiovascular disease, autoimmune disease and oncology.
Troels Jordansen
Troels started his career in healthcare with Leo Pharmaceutical Product. Over the last 20 years Troels has worked for 5 different cellular therapy companies including Dutch IsoTis NV, Australian Clinical Cell Culture Pty Ltd and British Azellon Ltd. Troels roles have covered sales, marketing and general management and the last 15 years as Managing Director and/or Chairman for private and public listed companies. He has been part of award winning management teams raising over €150 million. Troels became Chairman of Glycostem in January 2014 and CEO in July 2016.
https://www.hollandbio.nl/wp-content/uploads/2018/01/logo3.png
0
0
HollandBIO
https://www.hollandbio.nl/wp-content/uploads/2018/01/logo3.png
HollandBIO
2018-10-16 22:27:34
2018-10-16 22:27:49
Pivot Park Funding Event