← All events
Samen met HollandBIO
01/11/18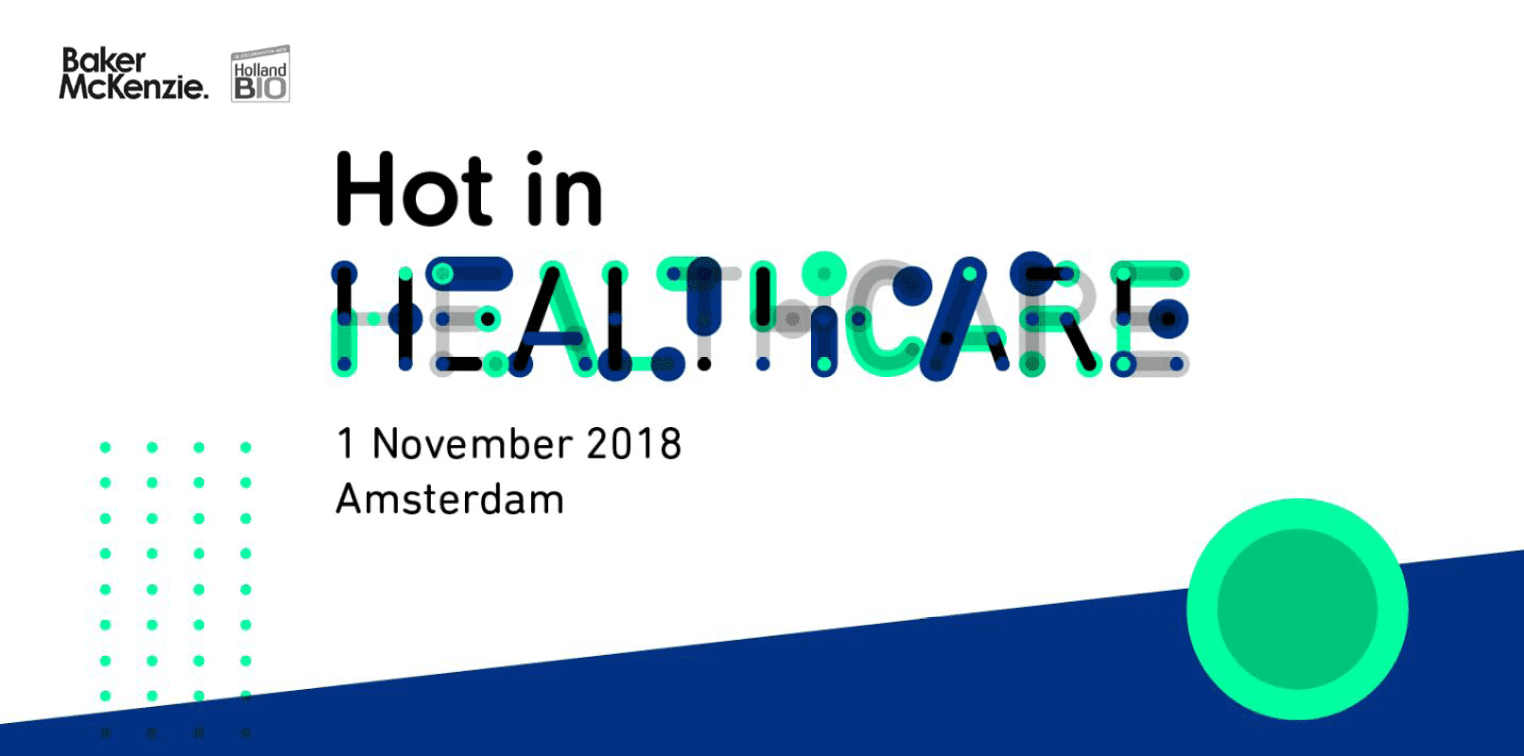 How can we improve access to healthcare? What impact could digital technology have on the future of healthcare? Who should pay for innovation?
Join us on Thursday 1 November as we talk about the future of healthcare, with a focus on successful exit strategies, digitalization and access to medical treatments. Key players in the life sciences and healthcare sector, including NGOs, industry players, the Dutch government, successful investors and healthcare providers will gather at B. Amsterdam, Europe's biggest start-up hub. Hot in Healthcare is organized by Baker McKenzie in collaboration with HollandBIO.
Agenda
13:30 – 13:45: Welcome and registration
Part 1: Life Sciences Dealmakers

13:45 – 14:15: Expert session 'How to bring a Life Sciences Company to a successful exit'
14:15 – 15:15: Panel discussion: Insights of Life Sciences Dealmakers. Moderated by Nicholas Moore (Stifel). Panel members: Markwin Velders (Kite Pharma), Anne Portwich (Life Sciences Partners), Ewoud Welten (Biocartis), Olivier Heyning (Lumicks)
15:15 – 15:30: Coffee break
Part  2: The Future of Healthcare

15:30 – 16:15: Keynote speech: The Impact of Digital Technology on Healthcare by Philips' Chief Innovation & Strategy Officer Jeroen Tas
16:15 – 17:15: Panel discussion: Timely patient access and affordable medical treatments – fact or fiction? Moderated by Ingmar de Gooijer (myTomorrows). Panel members: Martin van der Graaff (Zorginstituut Nederland), Cornelis Boersma (Health-Ecore), Wieteke Wouters (HollandBIO), Peter Kapitein (Inspire2Live) and Carla Vos (Vereniging Innovatieve Geneesmiddelen).
17:15 – 19:00: Drinks and canapés
Participation is free of charge, but spaces are limited. Find out more and register now on www.hotinhealthcare.com.
https://www.hollandbio.nl/wp-content/uploads/2018/01/logo3.png
0
0
HollandBIO
https://www.hollandbio.nl/wp-content/uploads/2018/01/logo3.png
HollandBIO
2018-10-02 17:47:26
2018-10-17 13:47:00
Hot in Healthcare