← All events
Met Korting
28/11/19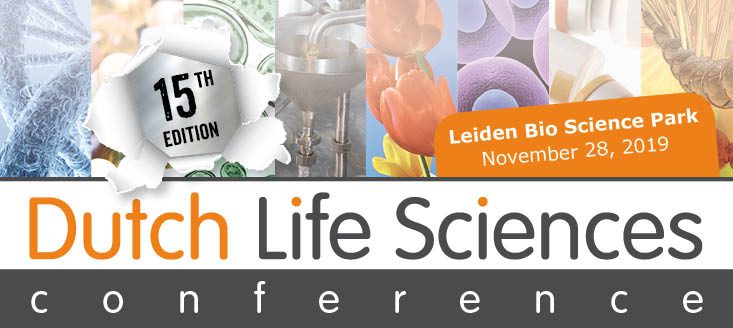 Special offer for HollandBIO members: meet the future – your future – at the Dutch Life Sciences conference!
Would you like to meet the Dutch Life Sciences & Health industry and explore business opportunities?
Join more than 350 of our participants at the upcoming 15th edition of the Dutch Life Sciences conference on November 28 at CORPUS Congress Centre at the Leiden Bio Science Park (Oegstgeest area).
This year the 15th edition of the Dutch Life Sciences conference will be very special because the Leiden Bio Science Park and Mibiton will celebrate their 35th and 25th anniversaries with us! Together with our main partner Health~Holland and conference advisory committee we are working on a memorable programme!
We are proud to present our first keynote speaker, astronaut Dr. André Kuipers. He offers a unique look behind the scenes of international human spaceflight. He shares his story about the training, the mission and the medical aspects of being on board of the ISS.
The Dutch Life Sciences conference brings together creative entrepreneurs and expert investors. It's the opportunity for top life scientists to find the business partners they need to realize their ambitions. Want to know what the sector's next big success story is going to be? It's a story you could be part of!
November 28 is your opportunity to rub shoulders with the sector's movers and shakers at the Dutch Life Sciences conference in Leiden.
Encounter new ideas. Expand your network. Engineer opportunities. At the Dutch Life Sciences conference.
Take a look at the programme www.dutchlifesciences.com.
We have a special offer for HollandBIO members, receiving a 10% discount on the regular conference fee.
Order your ticket NOW and receive 10% EURO DISCOUNT by using the code HOLLANDBIO10% upon registration. Go straight to the registration page https://www.dutchlifesciences.com/registration.
If you register before September 1st, you also take advantage of the special Early Bird fee! (If you register before October 1st, you also take advantage of the special September fee!)
Extra opportunities for start-up companies
INVESTORS FORUM
Pitch your company to the next stage !
During the Dutch Life Sciences Conference, an Investors Forum will take place. The Investors Forum is an exciting event for companies looking for equity capital and/or partnerships. The winner of the Investors Forum will be awarded a partnering ticket with a total value of EUR 2,500.00
Who can apply?
Startups and fast growing companies in the life sciences. The forum offers excellent opportunities to present your business plan to all major Dutch life sciences investors and discuss your business strategy, technology direction and capital raising plan.
Selection
Participation will be reviewed by the Investors Forum committee. An invitation to join a selection or pitch training might be part of the selection procedure.
How to apply?
If you are interested in participation in the Investors Forum, please contact: Miranda de Regt
We recommend to apply asap, as the number of presenting companies is limited.
Participation in the Investors Forum incurs no additional costs, conference registration is all that is required. Furthermore pitching startup companies, registered two years or less with the Chamber of Commerce, will receive a 200 euro discount* on regular registration fee of the conference. Upon registration you will be contacted with further details.
START UP CORNER
Present your company, products, technology or service via a poster presentation. Startup corner participation is free, conference registration is all that is required and only available for companies younger than 2 years. Tickets available for a special startup fee ad. 149,- euro excl. 21% VAT*.
* not applicable in combination with other discounts.
https://www.hollandbio.nl/wp-content/uploads/2018/01/logo3.png
0
0
HollandBIO
https://www.hollandbio.nl/wp-content/uploads/2018/01/logo3.png
HollandBIO
2019-06-21 12:28:45
2019-06-21 12:34:50
Dutch Life Sciences conference