← All events
Met Korting
11/01/21 -
15/01/21

Biotech Showcase™ Digital is an investor and networking conference devoted to providing private and small- and mid-cap biotechnology companies an opportunity to present to and meet with investors and biopharmaceutical executives. By necessity we have gone fully digital and expanded the format to five 24-hour days to accommodate partnering meetings all over the world.
We are committed to serving the life sciences industry during these challenging times by providing a way for our industry to CONNECT when face-to-face meetings are not possible. Our seamless digital event solution will deliver all the value you would expect at a physical event!
What's particularly exciting this year is that content will be released on-demand as early as November 23–that's SEVEN weeks prior to the actual event. This will allow you to listen to panels, watch company presentations and visit company showcases without interrupting your one-to-one meetings during the main event. See event timeline here.
The demand for innovation in all areas of human health is the impetus behind Digital Medicine & Medtech Showcase, a focus event taking place alongside Biotech Showcase Digital. The event brings together key stakeholders at the convergence of traditional therapeutics, digital tools, combination products, companion diagnostics, precision medicine, AI and other technical advances to explore funding opportunities, partnerships and collaboration.
Biotech Showcase is co-produced by Demy-Colton Life Science Advisors and EBD Group. Both organizations have a long history of providing high quality business support services to the biotechnology industry.
Intended for: Executives from:
Established and emerging public and private biotech companies
Professional investors in public and private biotech and life science companies
Pharmaceutical companies
Professional advisors to the biotechnology and life sciences community
Speakers: Please see website: https://ebdgroup.knect365.com/biotech-showcase/speakers/
Program: Please see website: https://ebdgroup.knect365.com/biotech-showcase/agenda/1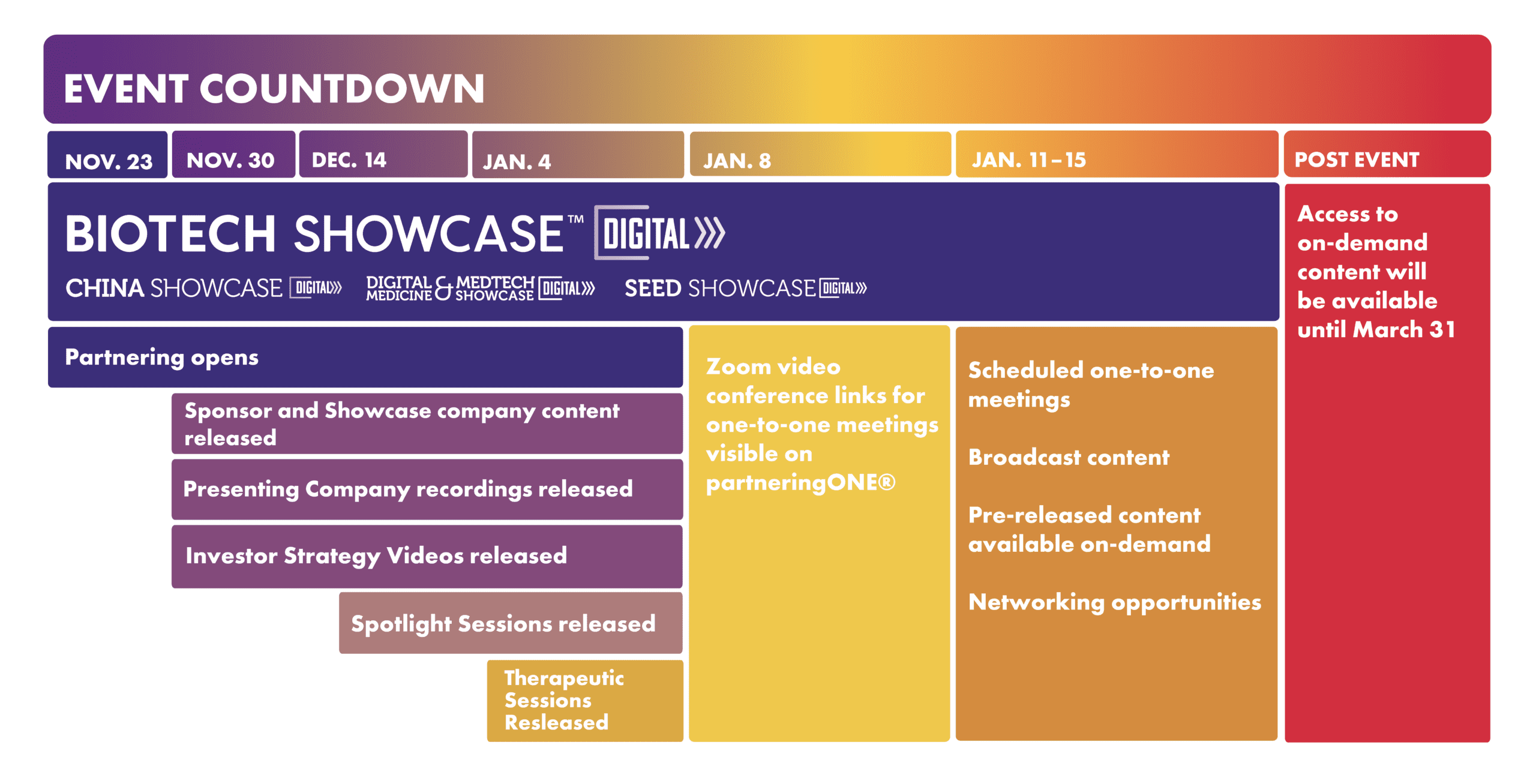 Biotech Showcase 2021 digital registration (link to register):
R&D registration rate: $1,495
Service provider registration rate: $2,995
Discount for HollandBIO companies: $200 off prevailing registration rate. Please contact bs@hollandbio.nl for the code.
Special offering and rate for seed-stage companies at Biotech Showcase:
SPECIAL OPPORTUNITY FOR SEED STAGE COMPANIES TO ATTEND AND PRESENT
As a startup, meeting the right investors during the most important fund-raising week of the year is crucial.  Get in front of the right decision makers and investors attending the Seed Showcase, a new feature of the Biotech Showcase™, January 13 – Delivered Digitally.
Attend Seed Showcase, all five days of Biotech Showcase as well as Digital Medicine & Medtech Showcase for only USD 777*.
Your registration will also include the ability to request meetings with investors and other attendees using the partneringONE® software.
Fifty seed-stage companies will be chosen to give a 7-minute company presentation.
Request a Seed Showcase presentation slot now (link)
To qualify for a Seed Showcase Registration your company must be:
A seed-stage company with total financing of USD 2 million or less (this includes dilutive and non-dilutive funding and grants)
Created in the last three years
Employing fewer than five people
Developing new therapeutic products, technology platforms, digital medicine, or medtech technologies
*Access to a Seed Showcase registration is at the discretion of the conference organizers.
Submission of a request for a Seed Showcase registration does not guarantee approval for the highly reduced registration rate.
Please also see: 2020 SEED Showcase presenters listing
https://www.hollandbio.nl/wp-content/uploads/2018/01/logo3.png
0
0
HollandBIO
https://www.hollandbio.nl/wp-content/uploads/2018/01/logo3.png
HollandBIO
2020-12-15 14:53:58
2020-12-15 14:54:38
Biotech Showcase Digital 2021