← All events
Met Korting
25/03/19 -
27/03/19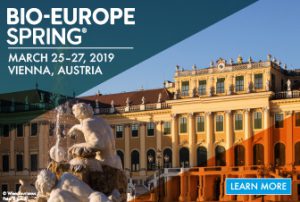 BIO-Europe Spring® is the springtime counterpart to EBD Group's flagship conference, BIO-Europe®, and continues the tradition of providing life science companies with high caliber partnering opportunities. Featuring EBD Group's sophisticated, web-based partnering system, partneringONE®, the event enables delegates to efficiently identify, meet and get partnerships started with companies across the life science value chain, from large biotech and pharma companies to financiers and innovative startups.
Health-Holland Pavilion
You can meet HollandBIO at the Health~Holland Pavilion, booth #59. Visit the pavilion and discover what the Netherlands has to offer as business partner, business location and as biotech career destination. And of course, you're most welcome to join us for a drink at the Health~Holland Pavilion on Tuesday March 26, 17.45h – 18.45h, at the exhibition floor's best-visited happy hour. Be on time, because during the reception we will raffle a Dutch Loyens & Loeff bike!
300 EUR HollandBIO Member Discount
Every HollandBIO member quoting "HollandBio2019" in the VIP field of the registration will receive a EUR 300 delegation discount on the prevailing registration fee. Click here to go the registration page.
Official conference website: https://ebdgroup.knect365.com/bioeurope-spring/
The Dutch delagation at BIO-Europe Spring is made possible by:


https://www.hollandbio.nl/wp-content/uploads/2018/01/logo3.png
0
0
HollandBIO
https://www.hollandbio.nl/wp-content/uploads/2018/01/logo3.png
HollandBIO
2018-11-12 15:53:00
2019-03-01 11:29:52
BIO-Europe Spring® 2019