← All events
Met Korting
05/11/18 -
07/11/18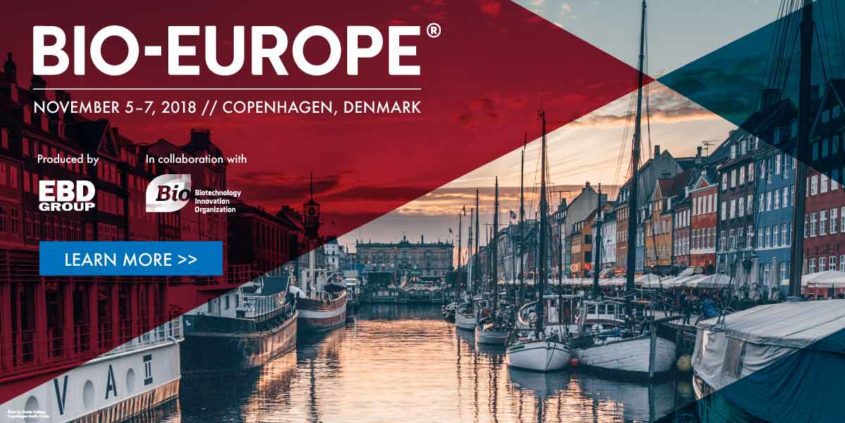 The 24th annual BIO-Europe® event is the largest biotechnology partnering conference held in Europe. Over 4,000 global decision makers from biotechnology, pharma and finance annually attend BIO-Europe to identify new business opportunities and develop strategic relationships. Business development executives and dealmakers consider BIO-Europe a must-attend event and an effective business strategy enabling them to meet and present to numerous potential partners. BIO-Europe features the industry's most advanced web-based partnering system enabling delegates from all parts of the biotechnology value chain to quickly identify, engage and enter into strategic relationships that drive their business successfully forward.
BIO-Europe's world-class workshops, panels and active exhibition along with thousands of prescheduled one-to-one meetings make this event an unrivaled forum for companies across the biotech value chain to meet and do business.
Health-Holland Pavilion
You can meet HollandBIO at the Health~Holland Pavilion, booth #54. Visit the pavilion and discover what the Netherlands has to offer as business partner, business location and as biotech career destination. And last but not least, mark your agenda for the notorious 'Holland Borrel'. Skål with us and enjoy a drink at the Health~Holland Pavilion on Tuesday November 6 from 17.45 – 18.45 hour. If you have any questions regarding BIO-Europe, please contact HollandBIO's Fabian.
300 EUR HollandBIO Member Discount
HollandBIO members are eligible to a €300 discount (PP) on the prevailing registration fee. To apply for the discount, enter "HollandBio2018" in the VIP field when registering. For more information and online registration please visit the conference website at https://ebdgroup.knect365.com/bioeurope.
https://www.hollandbio.nl/wp-content/uploads/2018/01/logo3.png
0
0
HollandBIO
https://www.hollandbio.nl/wp-content/uploads/2018/01/logo3.png
HollandBIO
2018-05-07 11:15:26
2018-10-29 15:00:02
BIO-Europe® 2018